Our target
The ultimate goal is to enhance the market of new and certified spare parts official operators, through the adoption of tools and procedures based on the concept of standard, which make more efficient and less costly the management of product logistics. This will facilitate sales process, market penetration, customer retention, consolidation of the company's presence in the area and exploration of new markets.
Description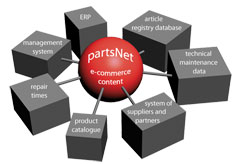 partsnet is a "Digital Ecosystem" dedicated to Automotive Aftermarket components sector. The project was conceived to solve common problems in the field, issues that blow wealth along the value chain.
During its development it was found that, in addition to solving known problems, the adoption of operational tools and techniques proposed, is useful for developing new business opportunities and creating innovative business models.
The digital ecosystem made by a package of software and databases, communicating with each other and making the management and sales of spare parts fluid, quick, accurate and economical. This allows businesses involved to extend or consolidate their presence in the new economy of e-commerce in a dynamic way.
---
Scenario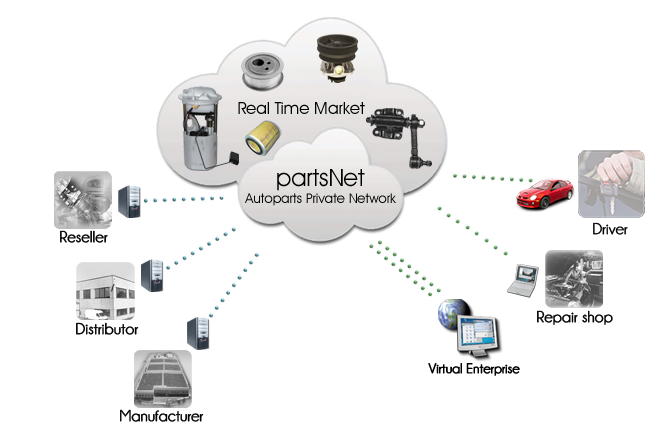 Through the online distribution of our tools we help companies to break into Web, quickly and with a low cost of entry.
A further advantage provided is to completely virtualize the stocks and the sale steps.
Besides of having the use of all the standardized information present in the TecDoc web catalog (vehicle fleet, items, pertinence, photo-drawings, OE nr.), necessary for the identification, you can manage discounts and net prices depending on the type of client. Thus, your customers will be able to browse the catalog and finalize the purchase directly online, under the conditions proposed by you.
Through the stable connection in real time to the warehouse of one or more partner suppliers, you can get the most from your private network.
Please, visit the website dedicated to the partsNet project: www.partsnet.it